Picked up a trap warp?
Prop fouled with fishing gear?
Call 207-598-7473,

and we'll meet you where you are!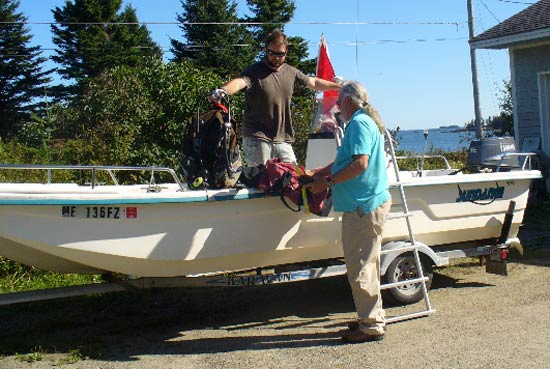 Our dive boat is trailered and ready to travel to your location.
No need to struggle back to the nearest wharf.
Propeller problems usually happen when you're far from help. At Dive Downeast we have our own boat – so we can travel to wherever you need us (weather permitting). No need to call for a tow, or miss a whole day to ground out.
Ideal for underwater inspection or recovery, too.
Our experienced divers can also...
Inspect your hull
Change props or zincs
Inspect your mooring
Look for lost moorings
Search for items lost overboard
Ask about our FREE underwater video services.
If you need evidence of damage for your insurance company or your own records, we can provide a short video at no extra charge.
Our certified professional divers know boats and moorings.
PADI Certified Dive Master Harry Fish knows what to look for when inspecting your boat and underwater gear. An experienced boat builder and skipper who rigs and restores his own moorings, he oversees a PADI-certified team that includes Dive Master Aaron Herzog and Advanced Open Water Diver Scott Huston.

All commercial diving is performed by our PADI-certified Dive Masters.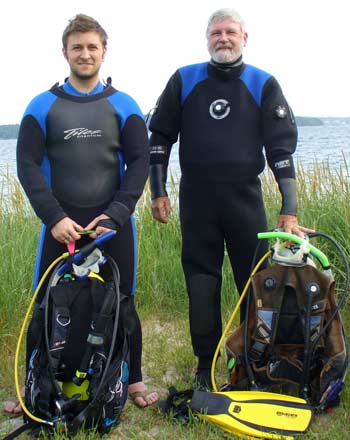 Professional divers Aaron Fish Herzog and Harry Fish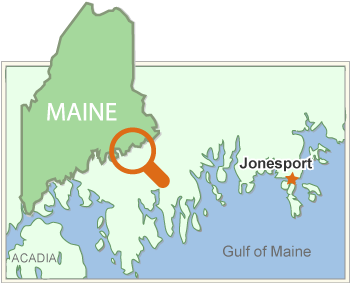 Dive Downeast is located on Moosabec Reach in Downeast Maine
Dive Downeast rates
$75 per diver for the first 15 minutes; $25 per 15 minutes thereafter
There are no travel charges if your location is within 10 minutes of the Jonesport Town Marina. An additional boat fee may apply for dives longer than one hour.
Need expert dive services?
Call Dive Downeast at 207.598.7473
Got fuel problems?
Dockside diesel or gas tank cleaning is available through Ocean Marine, based in Jonesport. Call owner Rick Herzog at 207-598-6363 to schedule service.