View the wild natural beauty of
Downeast Maine islands
—and a working lighthouse

that most people will never see.

Accessible only by sea, Jonesport's Moose Peak Light has been warning mariners away from the rocky coast since 1826. Weather permitting, we'll give you an up-close view.
You may never need your
camera's zoom!
On your 3-hour Coastal Cruises tour, you'll experience one of New England's richest and most diverse marine environments. Our 19-ft. outboard boat, the Dorothy Helen, can slip close inshore — so you'll have a chance to spot wildlife you'd never see from land.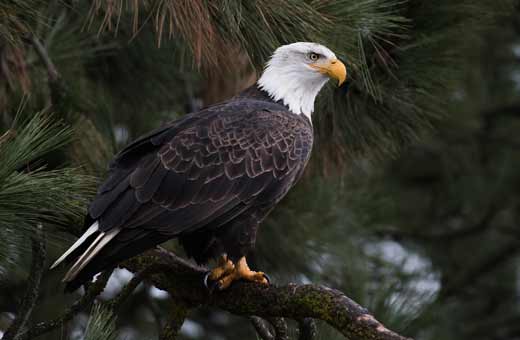 Bald eagles abound. Loons, great blue herons, arctic terns, razorbill auks, and several kinds of gulls may also fly past. Sometimes curious harbor porpoises surface for a look.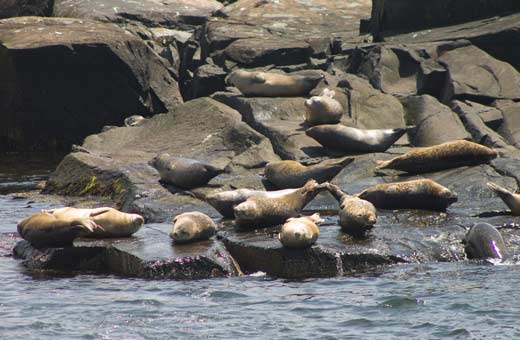 When the tide's down, your Coastal Cruises crew may ease close to seals basking on the ledges, so you can get a good view (and a great photograph).
Lighthouse lover?
Join the few who've seen
Moose Peak.
If conditions allow, we'll give you a close personal look at Moose Peak Light on Mistake Island, which can be reached only by sea. Dating from 1826, Moose Peak was rebuilt in 1888 after severe pummeling by Atlantic storms. It's still operated by the U.S. Coast Guard, now with an automated solar light and on-demand foghorn.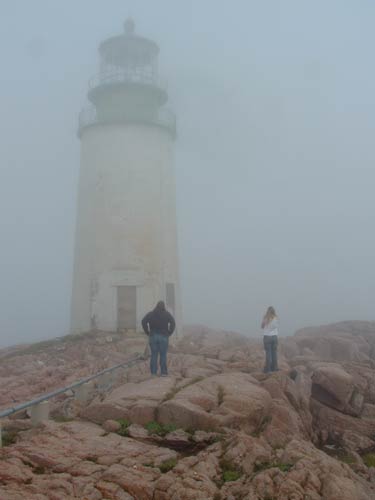 When warm weather inland meets the cold Gulf of Maine, be ready for a "thick o' fog." (The Lighthouse Service once ranked Moose Peak as the foggiest spot in the U.S.)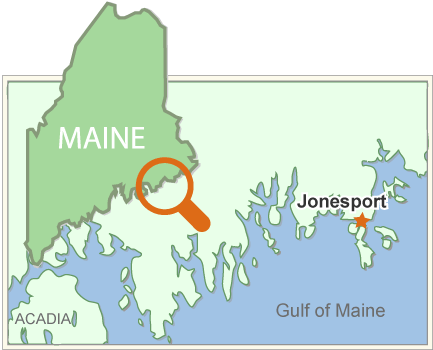 Coastal Cruises is located in Jonesport, about 90 minutes from Acadia National Park.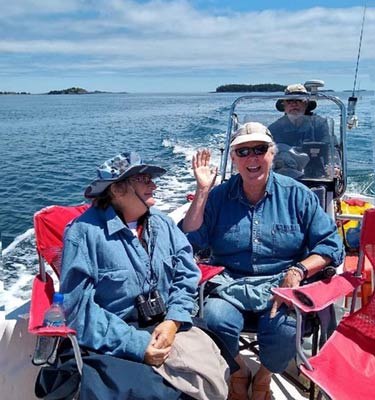 While you're cruising the unspoiled areas of Moosabec Reach and the beautiful islands of the Eastern Bay, we'll share local stories and sea lore that you won't find in books.
History happened here.
On your cruise, you'll see where pink granite blocks as big as refrigerators were loaded onto schooners bound for Boston and New York. We'll show you the lost town of Sealand, where lilac and apple trees still mark the old homesteads. And you'll discover where Samuel de Champlain anchored in the early 1600s while mapping Maine for the French king Henri IV.
Book a 3-hour tour for up to 3 people for only $225.
For a fully crewed 3-hour cruise, the rate is $225. Our rugged, reliable flat-bottom skiff, Dorothy Helen, can take up to 3 adult passengers comfortably. (We don't charge per person.)
To book: Call (207) 598-7473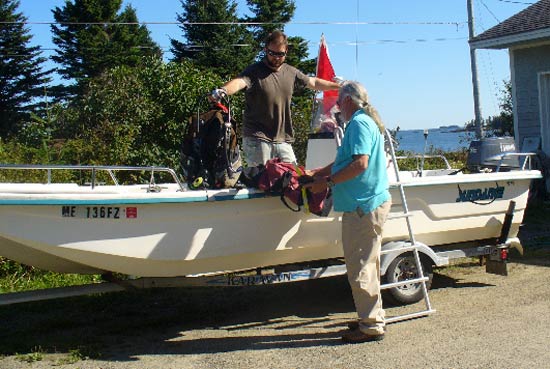 Aboard the sturdy, stable Dorothy Helen, there are no crowds to spoil the experience. No noisy diesels, no loudspeaker racket to scare away the wildlife. Just a guided personal cruise into hard-to-reach coves and inlets, across shallows where bigger boats can't navigate, to discover natural beauty that most people will never see.
Customized cruises:
No extra charge.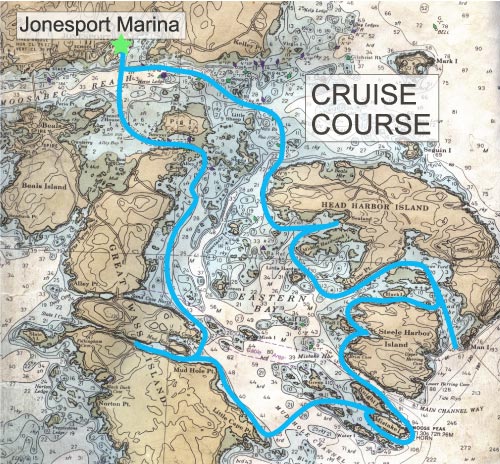 view larger map
The blue line on this chart shows our usual cruise course. But we'll be happy to take you to Roque Island or anywhere else within a 3-hour round trip from Jonesport.
You might be a lighthouse fan. Or a wildlife photographer. Or a couple celebrating a special event. Or a group of friends or family members in search of a memorable outing. As a small family business, we can customize your 3-hour cruise to suit your personal preference.
So if you want to visit a specific spot instead of taking our popular Lighthouse tour, no problem. Whatever you're looking for, we'll do our best to give you an experience of the Downeast Maine coast that will make lasting memories.
Call (207) 598-7473 to discuss possibilities!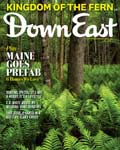 Down East Magazine rated Coastal Cruises one of its 2018 "Cruiser Faves."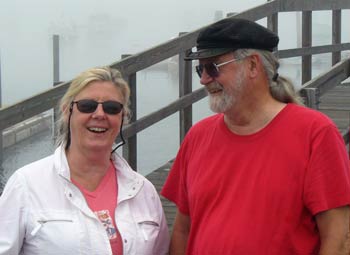 Coastal Cruises is run by sister and brother Laura and Harry Fish, descendants of Thomas Kelley, who in 1772 settled the part of Jonesport where their families still live.
Welcome aboard!
Capt. Laura Fish, a U.S. Coast Guard certified captain, is your guide to the natural beauty of Moosabec Reach and its islands. Harry Fish, her brother, will pilot you through cruising grounds he has known all his life. With thousands of hours of sea time between them, the duo have operated Coastal Cruises for 29 years.

Coastal Cruises' Dorothy Helen is skippered by a U.S. Coast Guard-licensed captain and complies with all USCG safety regulations.
Please be aware that boarding, disembarking, and travel aboard our boat are at your own risk.
Frequently Asked Questions
Q. What's the best time of day for a cruise?

We generally suggest starting your cruise around 9 a.m., since mornings tend to be the best time of day for boating.

Q. Where do we board the boat?

We'll meet you at the Jonesport Town Marina, off Maine Rt. 187 at Sawyer Square.
- If you're driving from Ellsworth (about 55 miles): Allow 1-1/2 hours
- If you're driving from Machias (about 25 miles): Allow 40 minutes

Q. What if the weather isn't good on the day of our cruise?

Be sure to call us early that morning to check on local conditions. In the event of bad weather, we'll work with you to reschedule your trip.

Q. Should we bring anything special?

Definitely bring an extra sweater or jacket, since it can be chilly out on the water. Also consider sunglasses, sunscreen, and a hat or visor. Feel free to pack a snack.

Q. Are there restroom facilities on board?

Sorry, no. Before your 3-hour trip, check at Moosabec Variety or Peabody Memorial Library (limited hours). There's also a porta-potti at the marina.

Q. Are lifejackets provided?

We carry life vests for every passenger, along with all other Coast Guard-required safety equipment. Please let us know in advance if you're bringing a small child or an infant.

Q. Is this cruise suitable for passengers with a physical disability?

Having a good time is important, but being safe is absolutely essential. Please call us to discuss your specific situation before booking a cruise.

Q. What forms of payment do you accept?

We appreciate being paid with cash or check. Thanks so much!
Scroll to top of page
↑