Enjoy a tour of unspoiled
Maine islands
aboard your own chartered

lobster boat!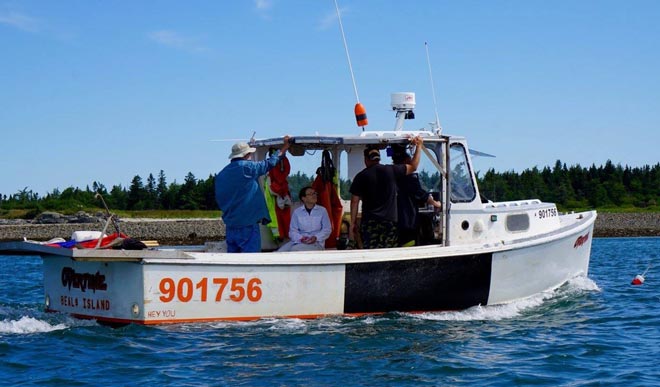 On Overtime, a working lobster boat from Beals Island, we'll treat you to a personal view of fishing life on the gorgeous Downeast Maine coast.
Your Coastal Cruises crew will ease you close to birds and other marine wildlife, so you can get a good view – and a great photograph.
You'll be cruising in one of New England's richest and most diverse marine environments. Aboard Overtime, a working lobster boat, you may be able to watch the skipper haul some of her traps. Smaller groups also have the option of chartering our flat-bottom outboard skiff, Dorothy Helen.
Our rates
We don't charge per person, so bring along the family or friends! (Up to each boat's capacity, that is.) Our rates for a fully crewed three-hour cruise of Moose Peak Light and the Moosabec Reach islands:
Overtime

(1-6 passengers): $375

Dorothy Helen

(1-3 passengers): $200
To book: Call Coastal Cruises at 207.598.7473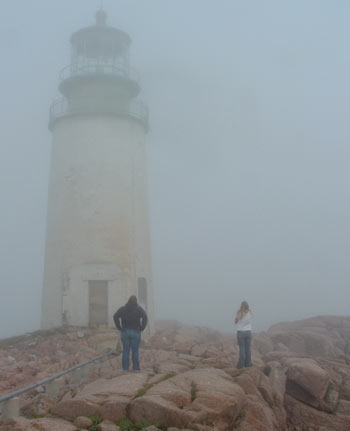 Weather permitting, we'll see Atlantic waves crashing against the ledges around Moose Peak Light, shooting into the air in an explosion of green water and foam.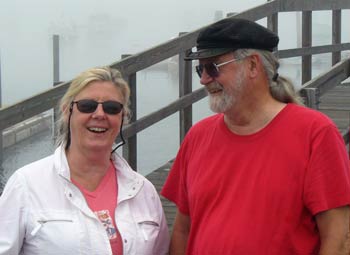 Sister and brother Laura and Harry Fish, your crew, are descendants of Thomas Kelley, who in 1772 settled the part of Jonesport where their families still live.
Welcome aboard!
Capt. Laura Fish, a U.S. Coast Guard certified captain, is your guide to the natural beauty of Moosabec Reach and its islands. Harry Fish, her brother, will pilot you through cruising grounds he has known all his life. With thousands of hours of sea time between them, the duo have operated Coastal Cruises for 27 years.

Coastal Cruises vessels are skippered by a U.S. Coast Guard-licensed captain and comply with all USCG safety regulations.
Book a 3-hour Lighthouse tour
—or a customized cruise.
You might be a lighthouse fan. Or a wildlife photographer. Or a couple celebrating a special event. Or a group of friends or family members in search of a memorable outing.
Whatever you're looking for, we'll do our best to give you an experience of the Downeast Maine coast that will make lasting memories.
The blue line on the chart shows our usual cruise course. But we'll be happy to take you to Roque Island or anywhere else within a 3-hour round trip from Jonesport.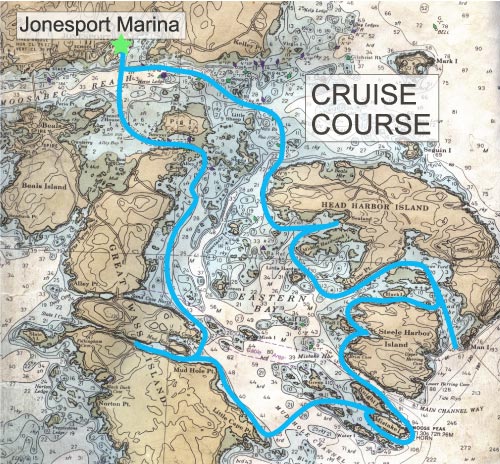 Where to find us
Take U.S. 1 to Maine Route 187. Follow Route 187 south into Jonesport. All cruises depart from the Jonesport Town Marina on Sawyer Square.
If coming east from Ellsworth (about 55 miles) allow 1-1/2 hours.
If coming west from Machias (about 25 miles) allow 40 minutes.
We all want good weather.
Be sure to call us on the morning of your cruise to check on local conditions. In the event of bad weather, we'll reschedule your trip if your timetable allows.
Consider an early start.
Since mornings tend to be the best time of day for boating, we generally suggest starting your cruise around 9 a.m.
Dress warmly.
It can be chilly out on the water, so bring an extra sweater or jacket — even if you don't expect to need it.
Please watch your step!
Boarding, disembarking, and travel aboard our boats are at your own risk.